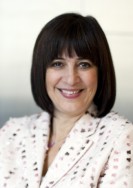 Diane Hessan is a successful entrepreneur, marketer and author.  She is the Founder and CEO of Communispace, a leading next-generation market research company "with a Blue Chip client list that would make a Madison Avenue giant jealous," according to Advertising Age. A pioneer in creating online communities to help over 130 global corporations generate consumer insights, Diane helped found Communispace in 1999 – when no one knew what social media was — and hasn't looked back.  In 2011, Communispace investors and employees sold Communispace to Omnicom, the premier global marketing services conglomerate.  Recently, Communispace was honored with the prestigious Mass Econ Gold Award for Most Significant Economic Impact in Greater Boston.
Diane has spent her 35-year career helping companies become customer-focused—both as a business executive, and as co-author of the book Customer-Centered Growth: Five Strategies for Building Competitive Advantage. The book was a Business Week best-seller and was published in 11 languages. She has received many honors for her leadership, including Ernst & Young's Entrepreneur of the Year, the Greater Boston Chamber of Commerce Entrepreneur of the Year, and a range of Best Boss citations.  In 2012, the Boston Globe listed her as #3 on its Top Women in Technology List, and Communispace was listed as one of 25 Top Places to Work in Boston.
In addition to the Tufts Board, Diane also serves on the board of Panera, the Advertising Research Foundation, and Horizons for Homeless Children. She is also a member of Governor Deval Patrick's Innovation Council.
Diane is a member of the Tufts class of 1976, (graduating in October of 1975),  and the Harvard Business School class of 1977.  Diane lives in Boston's South End and is the mother of two grown daughters, Lindsay & Amanda Garces (A'11). She is an avid Red Sox fan and is co-founder of The Sound Bytes, an a cappella group that sings about business.  Diane was elected to the Tufts University Board of Trustees in November 2012.
As of:  November 2012