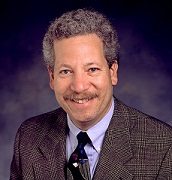 Dr. Steven A. Goldstein is an active Emeritus Professor of Orthopaedic Surgery, Mechanical Engineering and Biomedical Engineering at the University of Michigan.
Dr. Goldstein completed his undergraduate education at Tufts University, receiving a B.S. degree in Mechanical Engineering in 1976. He subsequently entered the University of Michigan and was awarded an M.S. degree in Bioengineering in 1977 and Ph.D. in Bioengineering in 1981. He joined the faculty at the University of Michigan as a Research Investigator in the Section of Orthopaedic Surgery, Department of Surgery in 1981 and became an Assistant Professor of Surgery in 1983. He rose through the academic ranks and was the Henry Ruppenthal Family Professor of Orthopaedic Surgery and Bioengineering and Associate Chair for Research in the Department of Orthopaedic Surgery until 2011. He also holds joint appointments in both Mechanical Engineering and Biomedical Engineering. He became Emeritus Professor in 2011, but continues to work with numerous scientists, companies and institutions.
Dr. Goldstein's research is in the area of musculoskeletal science and focuses on connective tissue diseases, their prevention or treatment. His large and diverse research program includes studies ranging from fracture repair and reconstructive surgery, to investigating the mechanisms associated with inherited or degenerative connective tissue fragility to the development of strategies for tissue regeneration. His primary interests relate to the investigation of the effects of metabolic or mechanical influences on bone adaptation and tissue regeneration. Some of the findings have led to the development of a variety of implants and instruments, gene-based therapeutics for wound repair and novel diagnostic technology for tissue degradation. This work has also lead to more than 25 patents and the formation of two start-up companies. Dr. Goldstein's research was primarily supported by grants from the National Institutes of Health as well as numerous foundations, other federal agencies and corporate sponsors. He has published over 200 peer reviewed papers and has been invited to present his work throughout the world.
Dr. Goldstein has received numerous awards for his research, including: the 1988 Nicholas Andre award and the 1989 Kappa Delta Award for Excellence in Orthopaedic Research, the 1987 YC Fung young investigator award and the 2005 Lissner Medal for career achievements from the American Society of Mechanical Engineering and the 2003 Marshall Urist Award for Excellence in Tissue Regeneration Research from the Orthopaedic Research Society. He currently serves on the editorial boards of five journals.He has served as the Chair of the Orthopaedics and Musculoskeletal Science Study Section of the National Institutes of Health and holds or has held numerous leadership positions in national societies, including President of the Orthopaedic Research Society, Chair of the United States National Committee on Biomechanics, Chair of the College of Fellows of the Association Institute of Medical and Biological Engineering and a board member for the Biomedical Engineering Society and The Tissue Engineering and Regenerative Medicine Society International. In 2005, Dr. Goldstein was elected a member of the National Academy of Engineering.
Dr. Goldstein has continuously been a very active participant in the Medical School and University community through many administrative positions and committee memberships. Perhaps most importantly, he served as the Assistant Dean (1993-1998) and then the Associate Dean for Research and Graduate Studies (1999-2004) in the Medical School at the University of Michigan. Dr. Goldstein also serves as an advisory board member at several universities and three start-up companies.  He was elected to the Tufts University Board of Trustees in 2008.
August 2016