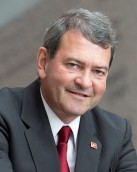 Dr. Ioannis (Yannis) Miaoulis has been President and Director of the Museum of Science, Boston, since 2003. Originally from Greece, Yannis came to the Museum after a distinguished association with Tufts University. There, he was Dean of the School of Engineering, Associate Provost, Interim Dean of the University's Graduate School of Arts and Sciences, and Professor of Mechanical Engineering. In addition to helping Tufts raise $100 million for its engineering school, Yannis greatly increased the number of female students and faculty, designed collaborative programs with industry, and more than doubled research initiatives. Founding laboratories in Thermal Analysis for Materials Processing and Comparative Biomechanics, he also created the Center for Engineering Educational Outreach and the Entrepreneurial Leadership Program.
An innovative educator with a passion for science and engineering, Yannis championed the introduction of engineering into the Massachusetts science and technology public school curriculum in 2001, making the Commonwealth the first in the nation to develop a K-12 statewide curriculum framework and assessments for technology/engineering. He has positioned the Museum of Science — one of the world's largest science centers and New England's most attended cultural institution — to take the lead in bringing interested parties in government, industry, and education together to advance the goal of educating a scientifically and technologically literate citizenry.
In 2004, Miaoulis spearheaded creation of the National Center for Technological Literacy® (NCTL®) at the Museum. Supported by corporate, foundation, and federal funds, the NCTL aims to enhance knowledge of engineering and technology for people of all ages and to inspire the next generation of engineers, inventors, and scientists. The Museum of Science is the country's only science museum with a comprehensive strategy and infrastructure to foster technological literacy in both science museums and schools nationwide.
A frequent speaker on science and technology literacy, Yannis has testified before U.S. Senate and House committees and served as keynote speaker at education reform conferences nationwide. He also built support for the first Engineering Education for Innovation Act, which was crafted by the NCTL and introduced in both chambers of Congress in 2010 and 2011, and for the Educating Tomorrow's Engineers Act in 2013.
Yannis has published more than 100 research papers and holds two patents. He has also been honored with the Presidential Young Investigator award, the Allan MacLeod Cormack Award for Excellence in Collaborative Research, the William P. Desmond Award for outstanding contributions to Public Education, and Tufts University Alumni Association's Outstanding Service Award. A former WGBH Trustee, he has co-chaired the Mass. Technology/Engineering Education Advisory Board. A 2012 recipient of the Science Club for Girls Catalyst Award, Yannis is also a 2011 winner of the ASME (American Society of Mechanical Engineers) Ralph Coats Roe Medal. On the National Museum and Library Services Board from 2006 to 2012, he has also served on the NASA Advisory Council and the NASA Education and Public Outreach Committee, receiving NASA's Exceptional Public Service Medal in 2009. A member of Mass. Governor Deval Patrick's Commonwealth Readiness Project Leadership Council, he also serves on the Executive Committee of Gov. Patrick's Science, Technology, Engineering and Math Advisory Council and on the American Association for the Advancement of Science Committee on Science & Technology Engagement.
He holds three degrees from Tufts University, a B.S. in mechanical engineering in 1983, an M.A. in economics in 1986, and a Ph.D. in mechanical engineering in 1987. He also received a master's degree in mechanical engineering from the Massachusetts Institute of Technology in 1984.   He was elected to the Tufts University Board of Trustees in 2006.
October 2013