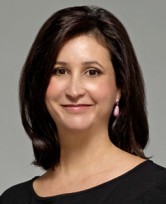 Elyse Newhouse has been involved in philanthropy in New York City for many years. This includes serving on the Council of Conservators of the New York Public Library, the Crohn's and Colitis Foundation of New York and the Women's Committee of the Central Park Conservancy. She also serves as a board member of Lincoln Center Theater and as a Trustee of Temple Emanu-el. In June 2012, Elyse was honored by the UJA Federation of New York as a "Woman of Influence in Philanthropy."
Elyse has supported Tufts University in many ways; serving as a Tufts advisor, as a member and chair of various reunion committees, on the Campaign Volunteer Leadership team in Arts & Sciences and as Vice Chair of the Beyond Boundaries Campaign Committee. She is an emeritus member of the Board of Overseers of the School of Arts and Sciences.
Elyse's husband, Michael Newhouse is a fellow alumnus and received his B.A. in History from Tufts in 1982. He is the President of Advance Publications.  Together they established their own scholarship as part of the Calder Challenge which supports the Kaleidoscope Admissions Initiative at Tufts.
She is co-founder of Dress Your Guests LLC.  Previously, Mrs. Newhouse was a telecommunications, sales, and marketing professional.  Immediately after graduating, she became a national accounts manager at Economics and Technology Inc., a telecommunications consulting company in Boston. She was later employed by U.S. Sprint as well as Eastern Microwave.
Elyse received a BA in English Literature and BS in Engineering Psychology from Tufts University in 1982 and an MBA from Northeastern University 1986.  She resides in New York City with her husband, Michael and their two sons, Andrew and Alex.
Elyse was elected to the Board of Trustees on November 3, 2013.
November 6, 2013