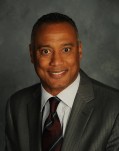 In his role as President, Sports, News and Local Programming, David Rone oversees Time Warner Cable's overall sports strategy and all content creation and programming for the company. His purview includes Time Warner Cable's regional sports networks, Time Warner Cable SportsNet and Time Warner Cable Deportes, which feature the Los Angeles Lakers, LA Galaxy, extensive behind-the-scenes programming and more than 180 live sporting events per year apiece, and Time Warner Cable's 40 local news, sports and lifestyle programming channels and 50 local Video On Demand channels across the country.
Rone also represents Time Warner Cable's interests in SportsNet New York (SNY), the official television home of the New York Mets and New York Jets, and serves on the network's board. In addition, he leads the coordination of the company's sports sponsorship and marketing initiatives and is involved in fostering relationships with sports leagues, conferences, teams, programming providers and others to enhance Time Warner Cable's sports products. He reports to Melinda Witmer, Executive Vice President and Chief Video and Content Officer.
Rone joined Time Warner Cable in May 2011 as President, Time Warner Cable Sports and transitioned into his current role in January 2013.
Rone has deep experience in all facets of the sports business and previously worked for Evolution Media Capital (EMC), a boutique investment-banking firm for the media and sports industries formed in partnership with Creative Artists Agency (CAA), an entertainment and sports agency. As part of the firm's sports media advisory leadership team, he provided strategic analysis, valuation and negotiation of media rights and regional sports network planning and operational strategy for the firm's clients, which include, among others, professional sports leagues and teams and college conferences.
Prior to joining EMC, Rone served as co-head of CAA Sports, which represents more than 650 of the world's top athletes and sports professionals and advises many leading sports organizations. Previously, he served as Executive Vice President of Fox Sports Networks and General Manager for Fox College Sports. Before joining Fox in 1999, he spent nine years at the Walt Disney Co., most recently as Vice President, Business Development for Corporate Alliances. Rone started his career as a corporate attorney.
Rone is a board member of the National Foundation on Fitness, Sports and Nutrition, a trustee of Tufts University and serves as chairman of the board of advisors for the School of Arts & Sciences at Tufts. In addition, he is a member of the board of directors of the L.A. Sports & Entertainment Commission and The Northwestern Law Board.
He has been recognized with many honors, including being named to the list of the "50 Most Powerful African-Americans in Sports" by Black Enterprise and the "101 Most Influential Minorities in Sports" by Sports Illustrated.  In 2011, Rone was ranked as CableFAX's top regional executive, and further expanded his recognition in the cable industry in 2012 as he was named to the CableFAX 100, which lists the most influential leaders in the industry on a national level. The same publication also named him #15 on CableFAX's list of the Most Influential Minorities in Cable in 2012.
Rone, who lives in Los Angeles, received a B.A. in economics from Tufts University and a J.D. from the Northwestern University School of Law.   He was elected to the Tufts Board of Trustees in 2010.
Last updated:   June 2013