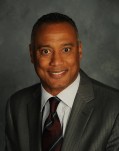 David Rone is Senior Managing Director and Head of Strategy & Planning at Guggenheim Partners, LLC, a global investment and advisory firm. Prior to joining Guggenheim, David served as President of Time Warner Cable Networks and Time Warner Cable Sports, where he managed Time Warner Cable's entire portfolio of 37 sports, news and lifestyle networks across the country.
Previously, David was a member of the sports media advisory leadership team for Evolution Media Capital (EMC), a boutique investment banking firm for the media and sports industries formed in partnership with Creative Artists Agency (CAA). Before segueing to EMC, he served as co-head of CAA Sports, which represents more than 1000 of the world's top athletes and sports professionals and advises many leading sports organizations.
David spent numerous years in leadership positions at Fox Sports culminating in his role as Executive Vice President of Fox Sports Networks and General Manager for Fox College Sports. David's executive experience also includes several years in various roles at the Walt Disney Co., most recently as Vice President, Business Development for Corporate Alliances.
David began his professional career as a transactional attorney specializing in mergers & acquisitions, leveraged buyouts and corporate financings with the law firm of Rudnick & Wolfe.
David is a Trustee of Tufts University and a member of the Board of Advisors for the School of Arts & Sciences at Tufts where he served in the chairman's role for 6 years. He also serves as a member of the Northwestern Pritzker School of Law Board.
David received a B.A. in economics from Tufts University and a J.D. from Northwestern Pritzker School of Law.