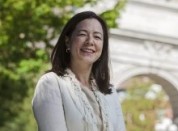 Tina Surh is the Chief Investment Officer of New York University.  NYU was founded in 1831 and is the largest private university in the U.S with a total enrollment of approximately 43,000 students across 16 academic divisions.
Ms. Surh heads the NYU Investment Office and is responsible for the design and implementation of investment policy and strategy for the University's Endowment.  NYU's $3.0 billion Endowment portfolio is globally diversified and actively managed across asset classes, and includes a substantial proportion of alternative investments.
Ms. Surh joined NYU in early 2005 as the Director of Investments, was promoted to Deputy Chief Investment Officer in early 2008, and has led the Office since mid-2009.  Under her leadership, the Endowment and Investment Office have undergone substantial evolution and development across all aspects, including:  governance structure, investment policy and strategy, portfolio construction and manager selection, risk management and analysis, performance reporting and organizational staffing.
Prior to joining NYU, Ms. Surh was with the Princeton University Investment Company, where she focused on manager research and selection across multiple asset classes, and in particular, led sourcing and evaluation of new opportunities in Asia.  Previously, Ms. Surh worked as a private equity investor with DCMI, a middle-market buyout and growth equity investment manager.  Ms. Surh began her career at Bain & Company, solving strategic and operational issues across a diverse set of industries.
Ms. Surh was elected to the Tufts University Board of Trustees in 2010.  She presently serves on a variety of investment management advisory boards, and has also served as an advisor to the Sesame Workshop Investment Committee.  She is a member of NYU's Retirement Committee which oversees the institution's retirement plans, as well as the Law School Foundation Investment Committee.  Ms. Surh has been recognized by the publishers of Institutional Investor News as a "Rising Star of Foundations and Endowments" and was honored in 2012 for "Outstanding Contribution to the Industry by an Institutional Investor" by the publishers of Hedge Funds Review.
Ms. Surh graduated cum laude from Tufts University in 1993 and subsequently earned her MBA from Harvard Business School.  While a student at Tufts, she majored in Drama and studied Economics, and was a beneficiary of the financial aid program.  She was an active costume designer for Arena Theater stage productions, vocalist with the Jackson Jills, and campus tour guide.
She and her husband reside in Brooklyn with their three children.
Last updated: October 2013