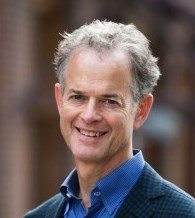 Chris is Co-Founder and Executive Chairman of Iora Health, a value-based primary care company. Prior, Chris co-founded Health Dialog, a leading provider of care management, healthcare analytics and decision support. He also founded Response International Services Corporation, and was a principal with Booz, Allen & Hamilton.
He serves on the boards of Boys & Girls Clubs of Boston, WGBH, the Pine Street Inn, Milton Academy, Harvard Medical School Board of Fellows, and the HBS Board of Dean's Advisors.
Chris has a BS from Penn State and an MBA from Harvard.
His daughter, Julia, graduated in 2017, and his daughter, Elizabeth, is in the class of 2020.
He was elected to the Board of Trustees on November 4, 2017.
November 2017